Timeline of the group
October 2017 – Inclusive Growth Conference
The idea for the group was first developed at Scotland's Inclusive Growth conference held at the University of Glasgow on 20th of October 2017. Heads of Governments, Ministers and high-ranking officials came together to discuss the potential benefits of such a group.
1st February 2018 – Geneva, Switzerland
Costa Rica hosted a meeting in their embassy with representation from the Scottish and Slovenian Governments as a follow up to the October conference, to discuss the formation of a group to share best practice.
23rd May 2018 – WEGo Secretariat Meeting, Edinburgh
The Scottish Government hosted a meeting in Edinburgh, which Costa Rica and Slovenia joined along with Sir Harry Burns and Sara Carter of the Council of Economic Advisers. Elections in Costa Rica and Slovenia took place that summer which restricted their ability to participate in the months following.
14th September 2018 – WEGo Secretariat Meeting, Edinburgh
A smaller meeting, welcoming Wales, Iceland, and NZ into the conversation was hosted by the Scottish Government.
28th November 2018 – OECD World Forum, South Korea
First public meeting of the group – a seminar organised by the Scottish Government with participation from Iceland, New Zealand and Professor Stiglitz.
February 2019 – Meeting in Paris
On 19th February 2019 a meeting was held in Paris. This included participation from the First Minister, Gary Gillespie (Chief Economist to the Scottish Government, Jane Coombs (New Zealand Ambassador), Kristján Andri Stefánsson (Icelandic Ambassador), and Martine Durand (Chief Statistician at the OECD), and Carrie Exton (Head of Section, Monitoring Well-Being and Progress).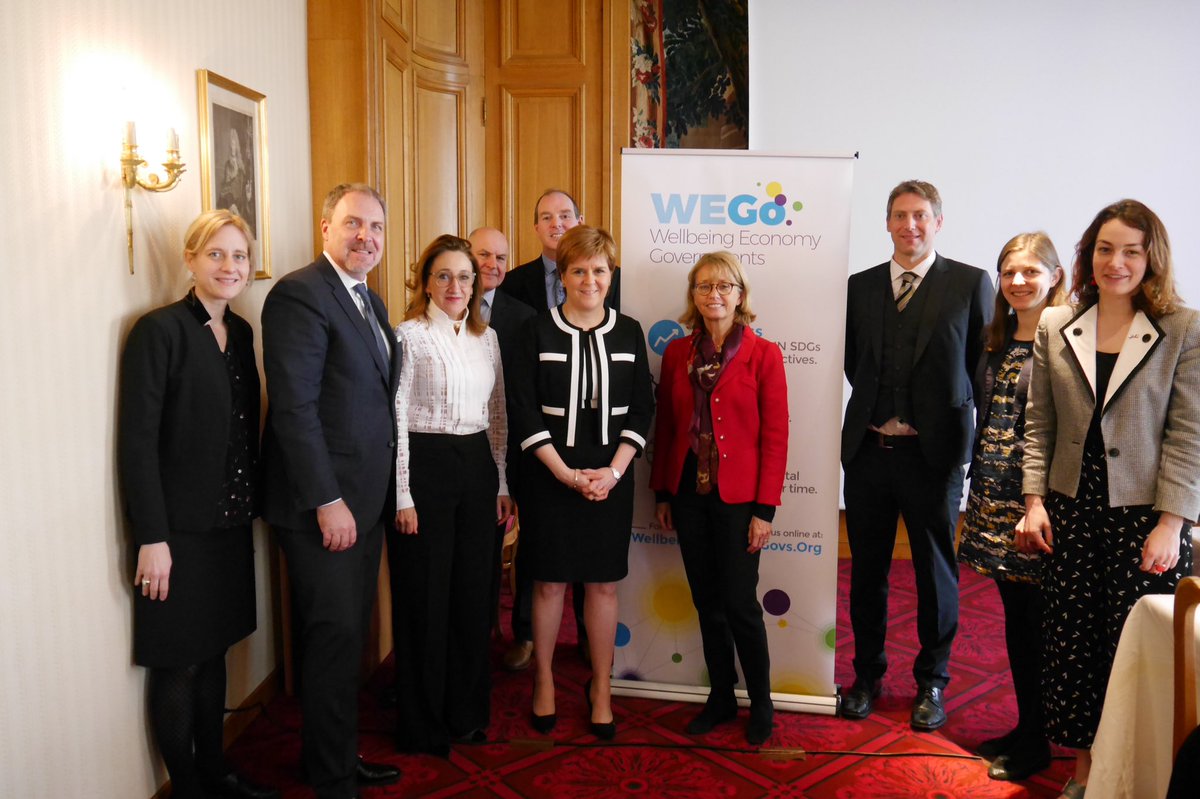 May 2019 – Annual Gathering, Edinburgh
On 1st and 2nd of May officials from the Governments of Iceland, Scotland and New Zealand gathered at Panmure House, to participate in a series of WEGo Policy Labs. An opening session was held with contributions from First Minister Nicola Sturgeon, Icelandic Prime Minister Katrín Jakobsdóttir and the OECD's Carrie Exton.
September 2019 – Wellbeing Meeting, Iceland
Iceland are hosting an inclusive growth and wellbeing symposium in Reykjavik.
October 2019 – OECD Workshop – Putting Well-being Metrics into Policy Action
This OECD workshop aims to explore the policy uptake of well-being, inclusiveness and sustainability indicators. It will focus on the types of evidence and analysis that policy makers need, and how practical policy mechanisms could be adapted to apply this evidence on a more systematic basis. The goal is to assist national governments in developing innovative approaches to putting people's well-being at the centre of public policy.